Aquatica Aquarium Gallery offers more than just fish and aquariums. We offer many services that make your life easier when it comes to enjoying your aquarium. We offer scheduled aquarium maintenance, aquarium relocation services, aquarium installation and setup, custom acrylic aquarium fabrication, aquarium consultation and more! We handle everything relating to aquariums and fish and have technicians with the hands on experience you want. We specialize in building aquariums and filtration systems with our on-site 30 year experienced Artisan Acrylic Master Fabricator. No build is impossible, so if you have an idea please call us today for a consultation!
Acrylic Fabrication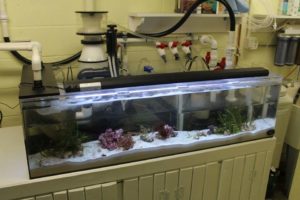 One of the best services we can offer our clients is the ability to stand out from the crowd. Be different. Anyone can get a glass box and fill it with water, but our expert design team and Artisan Acrylic Fabricator can help create a dream come true! If you have an idea for a tank that has to fit in a specific space in your home or office or you want something cutting edge and leading the way into the innovation age of aquariums, just let us know. We will talk with you and help make your dream become a reality. From Idea to Installation, we can do just about anything!  We don't only design and build aquariums, though. We have plenty of ready made options for filtration as well, or we can custom design a sump to your specifications and design.  Contact us today and let's discuss your ideas and get your custom setup built!
Aquarium Maintenance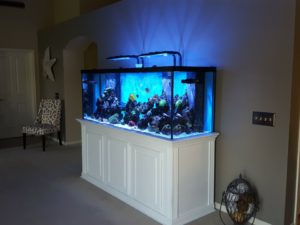 An aquarium can be hard work to keep up with. Freshwater aquariums can be just as difficult as some saltwater aquariums. Aquatica Aquarium Gallery offers full Aquarium Maintenance Services for our clients.  Whether you want a cleaning once in a while or you want set up on a bi-weekly plan or any other custom plan, we have the crew to help get the job done.  We have over 30 years experience in setting up, maintaining, cleaning and diagnosing problems in all aquarium environments from freshwater aquariums to live planted aquariums to full on Reef tanks. Not only do we have what it takes to clean your tanks, we also have the product knowledge and hands-on expertise to diagnose any problems you may have with filtration, plumbing, lighting or anything related to your tank. And if you're moving and need the tank moved, don't worry. We do that, too! We offer a full aquarium relocation service where we can come completely disassemble your aquarium and transport your livestock safely and set everything back up in your new home. From A to Z, we have you covered! We even have maintenance plans for corporate sites, too! Just ask!